Sardar Vallabhbhai Patel

Born: 31 October 1875
Passed Away: 15 December 1950

Contributions
Vallabhbhai Patel was one of the great social leaders of India. He played a crucial role during the freedom struggle of India and was instrumental in the integration of over 500 princely states into the Indian Union. Despite the choice of the people, on the request of Mahatma Gandhi, Sardar Patel stepped down from the candidacy of Congress president. The election on that occasion eventually meant for the election of the first Prime Minister of independent India.

Life
Vallabhbhai Patel was born on October 31, 1875 in Gujarat to Zaverbhai and Ladbai. Vallabhbhai, His father had served in the army of the Queen of Jhansi while his mother was a very spiritual man.

Starting his academic career in a Gujarati medium school Sardar Vallabhbhai Patel and shifted to an English medium school. In 1897, Vallabhbhai passed his high school examination and started preparing for law examination. 1910, Sardar Vallabhbhai Patel went to England to study law. He completed his law studies in 1913 and came back to India and started his law practice. For his Excellencies in Law, Vallabhbhai was offered many lucrative posts by the British Government but he rejected all. He was a staunch opponent of the British government and its laws and therefore decided not to work for the British.

He later started practicing at Ahmedabad. After a meeting with Mahatma Gandhi, at the Gujarat Club, Sardar Vallabhbhai Patel got influenced by Gandhi's words. Later, inspired by Gandhi's work and philosophy Patel became a staunch follower of him.

Indian National Movement
In 1917, Sardar Vallabhbhai was elected as the Secretary of the Gujarat Sabha. The next year, when there was a flood in Kaira, the British insisted on collecting tax from the farmers. Sardar Vallabhbhai led a massive "No Tax campaign" that urged the farmers not to pay their land. The peaceful movement forced the British authority to return then land taken away from the farmers His effort to bring together the farmers of his area brought him the title of 'Sardar' to his name.

In 1928, the farmers of Bardoli faced a similar problem of "tax-hike". After prolonged summons, when the farmers refused to pay the extra tax, the government in retaliation seized their lands. Vallabhbhai Patel. The agitation took on for more than six months and after a deal struck between the government and farmer's representatives, the lands were returned.

In 1930 Sardar Vallabhbhai Patel was imprisoned for participating in the famous Salt Satyagraha called by Mahatma Gandhi. His inspiring speeches during the "Salt Movement" transformed the lives of numerous people, who later played a major role in making the movement successful.

Sardar Patel was freed in 1931 following an agreement signed between Mahatma Gandhi and Lord Irwin, the then Viceroy of India. The treaty was popularly known as the Gandhi-Irwin pact. The same year, Patel was elected as the president of Indian National Congress Party for its Karachi session.

In the Karachi session, the Indian National Congress Party committed itself to the defence of fundamental rights and human rights and a dream of a secular nation. An agreement regarding this was also sanctioned.

In 1934, Sardar Vallabhbhai Patel led the all-India election campaign for the Indian National Congress. Though he did not contest a seat for himself, Sardar Patel helped his fellow party mates during the election.

Sardar Patel was annoyed at Jawaharlal Nehru for the latter's declarations of the adoption of socialism in 1936. Patel also considered Netaji Subhash Chandra Bose a "keen of more power within the party.

Influence of Gandhi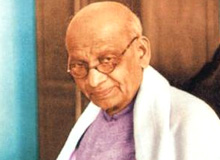 While senior leaders including Jawaharlal Nehru, Chakravarthi Rajagopalachari and Maulana Azad criticized Mahatma Gandhi's concept that the civil disobedience movement would compel the British to leave the nation, Patel extended his support to Gandhi. Despite the unwillingness of the Congress High Command, Mahatma Gandhi and Sardar Vallabhbhai Patel strongly forced the All India Congress Committee to ratify the civil disobedience movement and launch it without delaying further. Acting under the pressure, the All India Congress Committee sanctioned the drive on 7 August 1942.

One important episode that could change the political lines of the country had shaped up just a year of attaining independence. During the election for the Congress presidency in 1946, thirteen of the sixteen states proposed Sardar Patel's name for the post. It was a very crucial election, as the elected president of the congress party would be later considered as the first Prime Minister of independent India. Just a few days, before the all important election, Mahatma Gandhi request Sardar Patel to leave the candidacy and support Jawaharlal Nehru. Sardar Patel, without pondering twice, stepped down.

Integration of princely states
At the time of independence, Indian territory was divided into three parts. First, the territories under the direct control of the British government, second were the territories over which the hereditary rulers had suzerainty. The regions, which had been colonized by France and Portugal, formed the last. India, without the integration of these different territories under one roof, could not be considered as a unified and total country. It was a stupendous task for the ruling party, to persuade the rulers of these states to join. According to British government, the province rulers had the liberty to choose how they wanted to be ruled. They were given two choices. They could join either of India and Pakistan or stay independently. The stance of the British government had made the task much difficult for India. At this point many leaders of the congress approached the rulers but they failed to convince. At last, they all made a request Vallabhbhai Patel to think some other options to bring the princely rulers under Indian control. Sardar Patel eventually dealt with the tough-situation and came out successfully. He had made secured their accession. Therefore, the state of India we see today was a result of the efforts put in by Sardar Vallabhbhai Patel.

Death
Sardar Vallabhbhai Patel's health declined in 1950. He, himself realized that he was not going to live much longer. On 2 November his health deteriorated further and was confined to bed. After suffering a massive heart attack, on 15 December 1950, the great soul left the world.